Product Description
GJS-24-D Large Waterproof Fiber Optic Splice Case
Horizontal type Fiber Optic Splice Closure with 3 inlets/outlets,Fiber Joint Closure,Fiber Splice Enclosures,Fiber Splice Closures, Fiber Splice Enclosure

Outside Plant Direct Burial Closure offers the perfect choice for huge fiber count distribution applications involving butt and inline installations. The compact size and rugged design allow the closure to be applied in below grade, aerial and buried installations.
This product can be applied in the straight line and branch line connections of optical cables within the diameter of 22mm(φ), all types and structures, overhead/ pipeline/ underground/ well installation. Meanwhile, it is also applied to the connection of all-plastic city phone cables.
All property indexes are in accordance with National YD/T814-1996 Standard.
The body is made from imported high-intensity engineering plastics(ABS) and formed the shape with mould plastics under high pressure. It is in the shape of HALF rectangle, with the advantages of less weight, high mechanical intensity, corrosive-resistance, anti-thunderstruck and long service life.
The body and cable entrance are sealed with adhesive rubber strip(non-vulcanized) and sealed tape. Reliable sealing capability. It can be re-opened and easy to maintain.
Overlapping fiber-melting tray and separate insulation earth unit make the disposition of the cores, expanding the capacity and cable-earthen flexible, convenient and safe.
Outer metal component and fixing unit are made of stainless steel, so can be repeatedly used in different environments.
Purpose: aerial, direct-burying, wall-mounting, Pipeline laying way
Dimension (CM): 58*25.5*14CM
Cables Entry & Exit:3Entry 3Exit
Cable Diameter (mm): Φ7-Φ30
Sealing Structure : Sticky cincture Sealing
Material: PC
Maximum capacity: Bunchy 12-288cores ; Ribbon:576 cores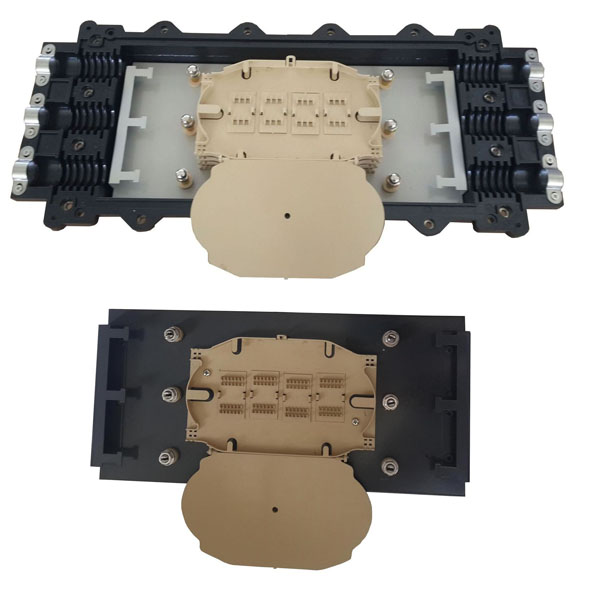 For more products: